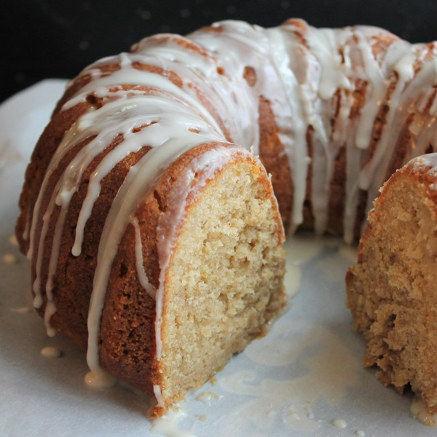 Ingredients
4 1/4 C. Snake River Orchard's Apple Cider
3 3/4 C. all-purpose flour
1 1/2 tsp salt
1 1/2 tsp baking powder
1/2 tsp baking soda
3/4 tsp ground cinnamon
1/4 tsp ground allspice
3/4 C. powdered sugar
16 tbsp butter, melted
1 1/2 C. packed dark brown sugar
3 large eggs
2 tsp vanilla extract
3 firmly packed C. Snake River Orchard Honeycrisp apples, peeled and shredded
Instructions
Preheat oven to 350°. Spray a 12-cup nonstick bundt pan with baking spray with flour (if not using baking spray with flour, spray with regular baking spray and lightly flour the pan.)
In a medium heavy-bottom pan, bring the cider to a boil over high heat. Cook until reduced to about 1 cup (20-25 minutes).
While cider is reducing, in a large bowl, whisk the flour, salt, baking powder, baking soda, cinnamon and allspice together. Place the powdered sugar into a separate small bowl.
Add 2 tablespoons of the cider reduction to the powdered sugar bowl and whisk until smooth. Cover with plastic wrap and set aside. Set aside another 6 tablespoons of the cider reduction in a cup (for pouring over the baked cake, yum).
Pour the remaining 1/2 cup of cider reduction into a medium bowl; add the melted butter, brown sugar, eggs, and vanilla. Whisk until smooth. Pour this cider/butter mixture over the flour mixture and stir with a large spoon until almost fully combined (don't worry if streaks of flour remain – you don't want to over-stir it or it won't be as tender). Stir in the apples and any juice they may have created until combined throughout the batter.
Pour the batter into the prepared pan and smooth the top with the back of a spoon. Bake until a skewer (or piece of spaghetti) comes out clean with just a very few crumbs on it, 55 minutes to 1 hour. Rotate the pan half-way through baking.
Transfer the baked cake to a wire rack that's sitting on a rimmed baking sheet (to catch any drippings). Brush the exposed surface of the cake lightly with 1 tablespoon of the reserved cider reduction. Let the cake cool for about 10 minutes, then invert it onto the wire rack.
Remove the pan and brush the top and sides of the cake with the remaining cider reduction. Let the cake cool for 30 minutes.
Stir the powdered sugar glaze, then drizzle over the cake. Let the cake cool completely (about 2 hours) before serving. The cake can be stored at room temperature for up to 3 days.
Cook Notes: stir batter gently!! Or it will be tough
Make sure cake is fairly cooled before glazing or cake will get soggy; glaze twice