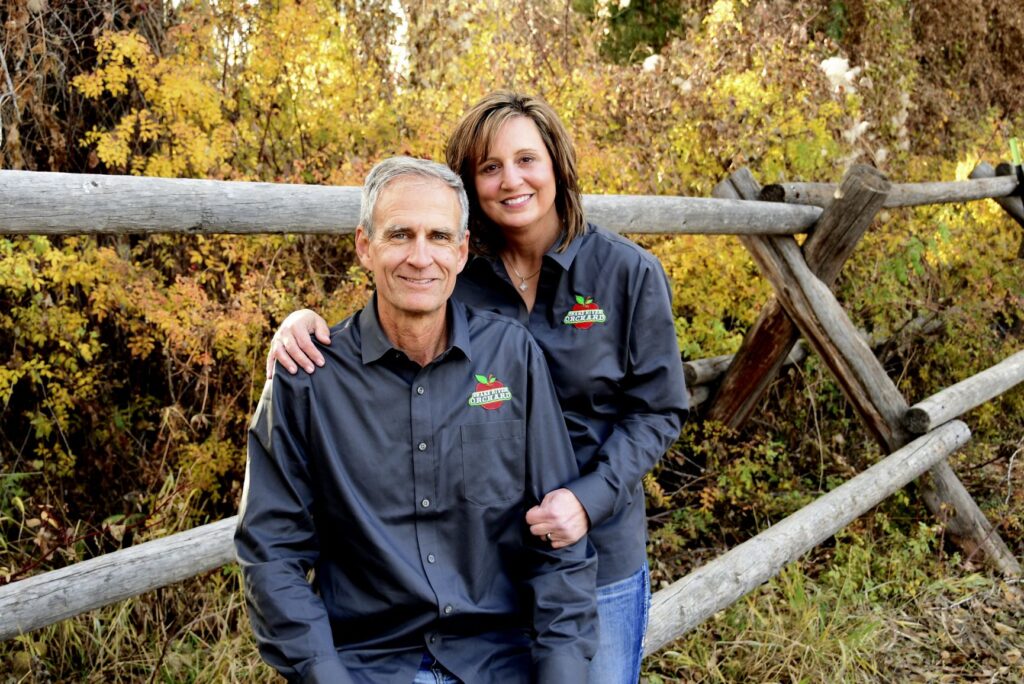 Snake River Orchard is a small backyard apple Orchard located in Rigby, Idaho running along the Snake River. Established in 2015 as a retirement project for Gary and Karen Blackham, the Snake River Orchard has 150 Honeycrisp and Gala apple trees, along with a few Wealthy and Transparent Yellow varieties used for cider.
We use our own organic compost and sprays whenever possible. Our Orchard grounds are impeccably groomed! Our apples are given tender care- making them beautifully shaped, without blemishes, brilliantly colored, and a crisp juicy taste!
Aside from growing apples, we also specialize in homemade cinnamon dried apples, naked dried apples, fresh and frozen hand-pressed cider, and apple cider vinegar with "the mother."
Working with surrounding communities is something that we love to do. Every fall, you can find us selling our apples at the Jackson Hole, Wyoming and Driggs, Idaho Farmer's Markets. We have also helped youth groups earn money with apple fundraising sales . We love working and living in our community and generously donate seasonal products to the local food banks.
We grow and sell our apples each fall out of our home, located at 682 N. 3862 E. in Rigby, Idaho. We are also located on Facebook @SnakeRiverOrchardRigbyIdaho.
Please give us a call to place an order or watch FB for harvest times. We look forward to hearing from you!
Your friends,
The Blackhams